Returns are handled on a per case basis. If you would like to return an item contact us with your order ID number that was provided on checkout so we can assist you better.
We encourage you to try the support option before making a purchase if you are not 100% sure if the item in question fits your needs. We do this at our physical location with a friendly smile why not extend this to the online community.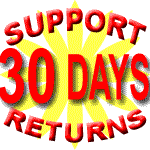 Items listed with this support and return badge are eligible for a 30 day window for support or return. The same way we deal with walk in customers at our physical location.
Some items can qualify for partial refund within 30 days. Contact us and we will reply during our business hours.